Cut teeth only gears in 10 days or less from the best in the business.
Industry-leading quality AND quick turnaround.
Forest City Gear's Cut Teeth Only program is a cost-effective solution customers can depend on for precision gear cutting and quick turnaround. You provide the gear blank and the specs, and our highly skilled engineers and machinists take care of the rest. With state-of-the-art equipment, an inventory of over 7,000 hobs and 5,000 shaper cutters, and on-demand production capacity, we'll most likely ship your gears in less time than it would take you for tooling.
Aerospace

Industrial Automation

Robotics

Medical Devices
Spurs

Helicals

Involute Splines

Sprockets

Worms
It has been my pleasure to develop a partnership with Forest City Gear over the last 10+ years. Their industry knowledge and quality are unsurpassed. They have gone above and beyond many times to ensure our critical delivery date was met. In my 30+ years in manufacturing, I have yet to work with a better overall company. OUTSTANDING!
Reliability, professional expertise, technical advantage, and team commitment are all reasons to choose Forest City Gear as your #1 go-to supplier for gear cutting and grinding. For years we have been sending Forest City Gear our parts for processing, and no matter how challenging the part might be, they have consistently met or exceeded our workmanship expectations. The family at Forest City Gear—every level is accessible and ready to complete the parts in a timely manner. Thank you, Forest City Gear, for all your hard work!
I could fill a book with how frequently Forest City Gear has helped with the success of Firstar. We've been working with Forest City Gear on Cut Teeth Only for nearly 20 years now. Their communication is superior, and they always accommodate wherever possible to meet our needs and schedule. Without question, Forest City Gear offers the best service and quality.
Forest City Gear has been our preferred supplier of Cut Teeth Only gears for more than 10 years. All of their work has been outstanding, and they're exceptionally responsive. When we need a favor, even if it's hot by the time it gets to them, they always help us out. Forest City Gear makes it happen when they say they're going to. We've never had even one quality issue—their quality is second to none.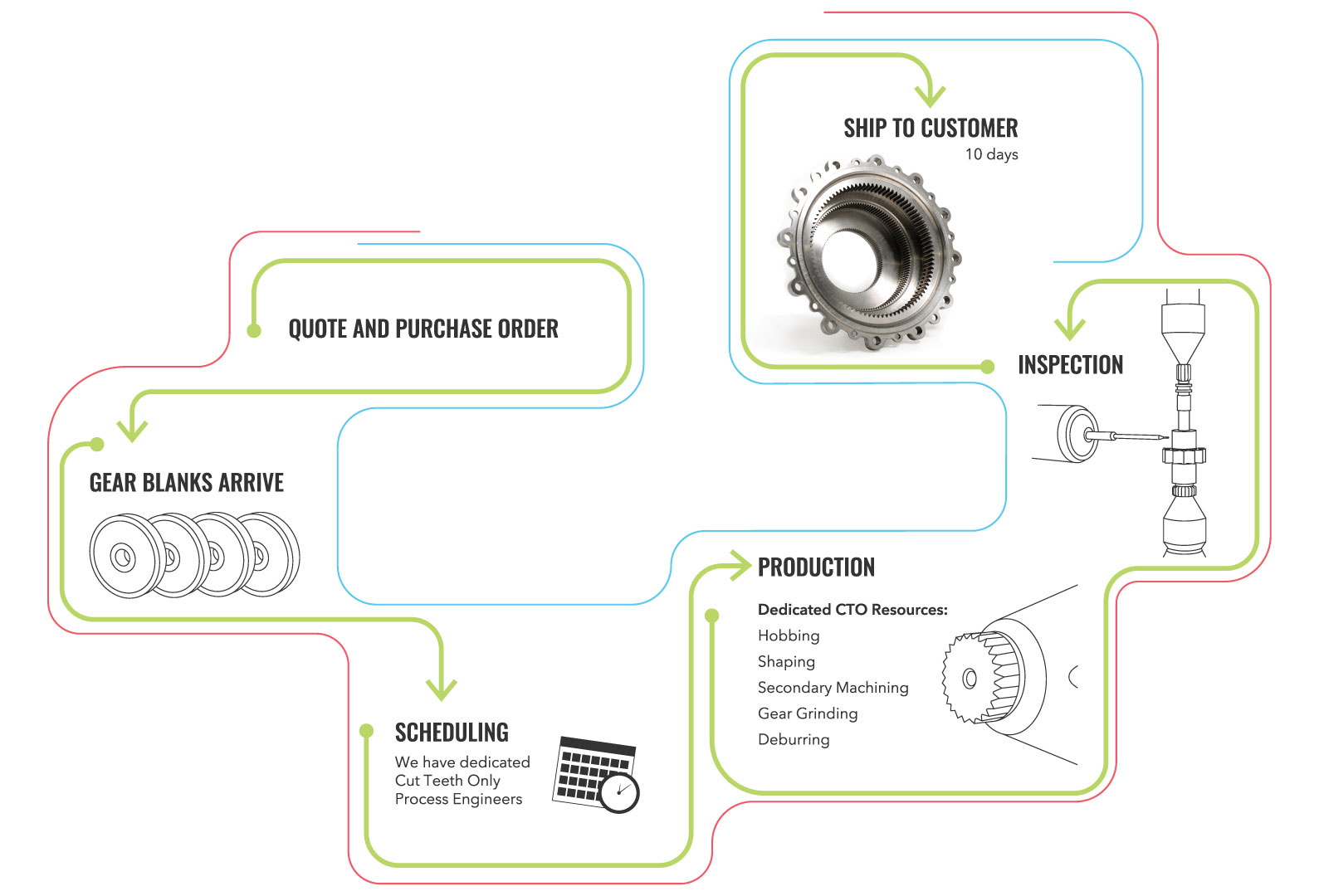 Forest City Gears production capabilities include:
17 CNC gear hobbers for gears with diameters up to 16" and shafts to 70"; pitch from 3 to 200 and up to AGMA class 12
7 CNC gear shapers for similar sized precision internal gears and external gears that can't easily be hobbed
6 advanced gear grinding machines for the hard finishing of gears with diameters up to 2 feet and AGMA class 15
A complete array of secondary machining operations including OD/ID grinding.
And the industry's best-equipped QC Lab for the complete analytical inspection of involute, lead, pitch, runout and surface finish.
When failure is not an option, customers depend on Forest City Gear to deliver gears that run quieter, last longer and perform better. That's what we call excellence without exception.